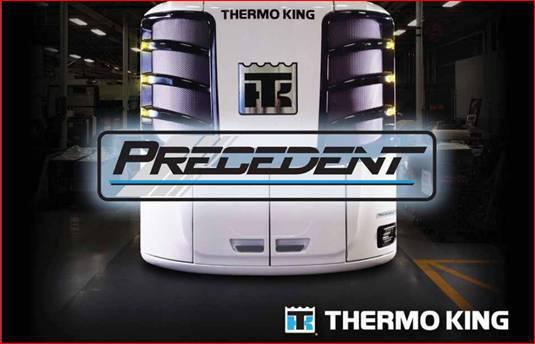 The Precedent­­ Message


Compliance Choices without Compromising Performance
Providing industry-leading heating and cooling capacity without the uncertainty of future compliance


Choices for Today and Tomorrow
A range of product configurations and options allow you to transition to the new platform, when the time is right, based on the specific needs of your business




Double-Digit Fuel Savings
Diesel Direct Electric ( DDE) architecture engineered specifically to deliver double-digit fuel savings in real-world applications.



Thermo King Peace of Mind
Industry's largest and most reliable dealer network, combined with lowest life cycle cost solutions, confirm you have made the smartest long-term decision for your fleet


News & Update are available at the following links:


www.tkprecedent.com
Thermo King first Transport Refrigeration Manufacturer to Receive both EPA & CARB Certification
C.R. England chooses the Thermo King Precedent (www.fleetequipmentmag.com)


Offering an array of product configurations and options to address your business' specific needs.
The PRECEDENT™ S-Series, provides an evergreen solution that provides a low lifecycle cost and double-digit fuel efficiency without the uncertainty of future compliance.


>25 hp ST TRU with 2013 or beyond model year engine; the useful life is Evergreen




PRECEDENT™ C-Series, utilizes an advanced control platform which intelligently monitors engine performance and provides significant gains in fuel efficiency.


<25 hp ST TRU, the useful life in California is based on the TRU model year plus 7 years
Thermo King will be introducing a full range of EPA Tier IV Final compliant solutions, beginning January 1, 2013. Thermo King believes that the innovative, ground-breaking Precedent platform will set new industry standards in both fuel efficiency and emissions control and will include >25hp single and multi-temperature trailer models and <25hp single temperature models.
The decision to offer a >25hp, EPA Tier IV final solution, enables Thermo King to continue production of its current range of SB models throughout 2013, allowing customers the widest possible array of options during the transition period.
Due to the expected customer demand, Thermo King will have a limit on availability of its popular SB230 model and will require all orders to be placed by March 31, 2013, with shipment required no later than December 31, 2013. It is not expected that the SB230 will be available beyond 2013. Orders will be accepted and filled on a first come, first served basis in accordance with EPA rules.
For additional details on the new Precedent product line and questions related to 2013 SB pricing and availability, customers can contact their local Thermo King representative.